Merit Badges & Retention Products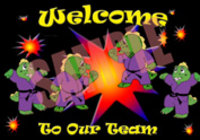 MA Retention Badges

MA Badges and MA systems will increase motivation and generate excitement within your students and within your schools.
Black Belt Club badges, Special Winning Attitude Team AND MORE will help create special team groups.
A complete badge system for three key areas is provided for those that purchase badges from us;
martial arts skills i.e excellent kicking
life skills i.e team work
safety skills i.e stranger danger
Last but not least we have a complete range of badges recognising "Student of the Month","Academic Achievement","Splits Club" etc
For your more information E-mail your request


MA Retention Stickers
MA stickers that are bright and priced so you an give them away at every class. The kids just love them!!

MA Postcards
Show them you care by sending them martial arts specific welcome cards(adult & junior),we miss you,congratulations,happy birthday,black belt excellence, get well & much much more.

Job List Pads
The Secret to long Term success is... Getting Your Students to duplicate Black Belt habits when they go home!
Parents love them,instructors have a chance to show parents that we do much more than just kick & punch by promoting life changing habits.
The secret to LONG TERM SUCEESS in the martial arts is in keeping students active. You can do this by winning the support of parents who WILL SEE THE VALUE OF YOUR PROGRAM.
We have two job pads available Kids call them by Best List:
For kids 5-11 years
For teenagers Its a great Way to strengthen the student family/instructor bond
Regardless of style these job pads will work magic and help grow your school by improving retention!
Email your requests for more information to master@blackbeltsuccess.com.au